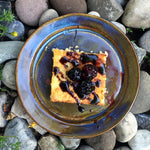 Bottom Crust: 1 Cup Flour 1/2 Cup Powdered Sugar 1/3 Cup Meyer Lemon Olive Oil 1/2 Cup Flaked Coconut Filling: 3 Large Eggs 1 Cup Granulated Sugar 2 TBSP Flour 1/4 TSP Salt 1/2 TSP Baking Powder 1 TSP Vanilla Extract Preheat oven to 350. Coat an 8" x 8" baking dish with olive oil cooking spray. In a mixing bowl combine Bottom Crust ingredients. Mix well and press into bottom of the pan. In a second bowl mix Filling ingredients. Blend by hand until well mixed and spoon over prepared crust. Bake for 30-40 minutes or until top is...
---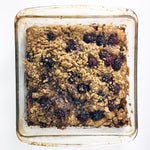 This is a very simple and versatile dessert. You can substitute almost any berry and balsamic for the blackberries and cut back on the ginger if you don't like a bit of ginger tang! It is not overly sweet but add 1/4 cup of sugar to batter if you prefer it more sweet. Cake 2 cups fresh blackberries 2 TBSP Blackberry Ginger Dark Balsamic 1/4 cup mild EVOO 1 egg 2 cups all-purpose flour 2 TSP baking powder 1 TSP baking soda 1 cup milk   Streusel Topping 1/4 cup all-purpose flour 1/4 cup brown sugar> 1 TSP ground ginger...
---
Prep Time 15 minutes Cook Time 15 minutes Serves 6-8 adult(s)   Ingredients 1 cup heavy cream 1/2 vanilla bean, seeds scraped and pod reserve (if beans aren't available, substitute 1/2 teaspoon pure vanilla extract) 2 teaspoon Gravenstein Apple White Balsamic Condimento 1-1/2 teaspoons powdered gelatin 2 tablespoons cold water 1/2 cup packed dark-brown sugar 1-1/2 cups low-fat buttermilk 8 oz. seedless red grapes Instructions Place cream and vanilla seeds and pod (or vanilla extract) in a small pot and bring to a simmer over medium-high heat. Turn off heat, cover, and let steep 10 minutes. While the cream mixture...
Recent Articles
Categories