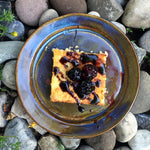 Bottom Crust:
1 Cup Flour
1/2 Cup Powdered Sugar
1/3 Cup Meyer Lemon Olive Oil
1/2 Cup Flaked Coconut
Filling:
3 Large Eggs
1 Cup Granulated Sugar
2 TBSP Flour
1/4 TSP Salt
1/2 TSP Baking Powder
1 TSP Vanilla Extract
Preheat oven to 350. Coat an 8" x 8" baking dish with olive oil cooking spray. In a mixing bowl combine Bottom Crust ingredients. Mix well and press into bottom of the pan.
In a second bowl mix Filling ingredients. Blend by hand until well mixed and spoon over prepared crust. Bake for 30-40 minutes or until top is light brown. When fully cool, dust top with powdered sugar. Cut into squares and drizzle with your favorite Dark Balsamic Reduction or add berries (or both!).