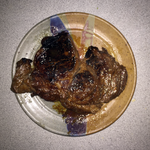 Oh yeah!  This is simple but full of flavor. Plus rib-eye steak is a forgiving cut of meat due to its intrinsic marbling.
Pomegranate Balsamic Grill Sauce
1/3 cup Pomegranate Dark Balsamic
1/4 cup Olive Wood Smoked Olive Oil
1 TBSP good quality Dijon style mustard
2 TSP kosher or sea salt
Instructions
Prepare the grill or broiler. In a medium bowl, whisk the mustard with the salt, and balsamic until blended thoroughly. Slowly drizzle in the olive oil whisking quickly and continuously. The marinade should become thick and emulsified. In a seal-able container or large zip lock bag, place up to four rib-eye steaks and thoroughly coat with the marinade. Refrigerate and marinate for 4-6 hours, turning the steaks at least once during the process. Grill or broil the steaks. After cooking, allow the steaks to rest for 10 minutes before serving.