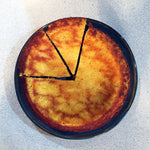 6 TBSP Mild Extra Virgin Olive Oil
3/4 Cup Sugar
1 Large Orange, Unwaxed 
1 Large Lemon, Unwaxed
4 Eggs
3/4 Cup of Ground Almonds
2 TSP Baking Powder
Wash the orange and lemon and place in a saucepan. Cover with water and bring to a boil, then simmer for 30 minutes or until soft.Remove from water and let cool. Cut orange in half, remove seeds, put skin and pulp in a food processor. Cut lemon in half and discard seeds and pulp and place skin in food processor. Puree mix and set aside.
Preheat oven to 350 degrees. Beat the olive oil, sugar and eggs together until light and fluffy. Stir in ground almonds and baking powder. Add puree and mix thoroughly. Lightly oil an 8" cake pan, and line bottle with parchment. Spoon mix into cake pan and bake for 50-60 minutes or until golden and springs back to the touch. Let cool in the pan until completely cold then turn out.
Slice and serve with a powdered sugar dusting or drizzle with your favorite fruity dark balsamic.