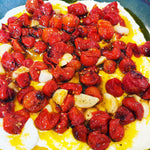 This appetizer is sure to be a hit at your next gathering. It's best served with grilled bread drizzled with olive oil for dipping. Great way to use your tomato harvest or some of our local farmers markets bounty!
INGREDIENTS:
TOMATO CONFIT:
1 PINT Cherry or grape tomatoes
1/2 CUP Garlic cloves, peeled
1/2 CUP Mild extra virgin olive oil
1/4 TSP Red pepper flakes
WHIPPED HONEY RICOTTA:
15 OZ Full fat ricotta
3 TBSP Honey
1 TBSP Garlic infuse olive oil
1 LEMON Zest only
INSTRUCTIONS:
FOR CONFIT:
Preheat oven to 425 F. In a small baking dish add tomatoes, garlic, olive oil, a pinch of salt and pepper. Bake 45 minutes, remove from heat, and set aside.
FOR RICOTTA:
Whip together the ricotta, honey, garlic olive oil, a pinch of salt, and lemon zest until light and fluffy.
FINISHED DISH:
Add the whipped ricotta to a large serving bowl, covering the bottom. Add tomato confit on top and drizzle garlic olive oil on top. Serve with olive oil toasted bread. ENJOY! .