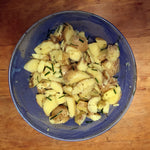 Super easy and fast variation on an summer favorite. Dill gives subtle flavor to the salad, nicely set off by the citrus of the lemon balsamic.
Ingredients
1/4 cup Fernleaf Dill Infused Olive Oil
1/4 Sicilian Lemon Balsamic Vinegar
1 TBSP Sugar
1 TSP salt
Fresh Black Pepper to taste
1/3 cup Scallions or Chives
1 TSP Dried Oregano
Peel (optional) potatoes and cut into cubes or wedges. Finely chop Scallions or Chives. Boil Potatoes 5 to 6 minutes, or until tender. Drain Potatoes and allow to cool. Combine other ingredients in a bowl. Wisk to blend. Place Potatoes in a large bowl. Drizzle ingredients over Potatoes. Lightly toss to distribute ingredients. Serve warm or at room temperature. Warm leftovers before serving.