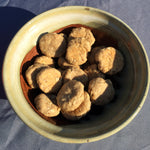 2 cups Flour 
1 cup Oatmeal
1/2 cup Creamy Peanut Butter
2 TBSP Flax-seed Meal
1 cup Water
1 TBSP Mild Extra Virgin Olive Oil
Preheat oven to 300 F. Add dry ingredients into a bowl, then add olive oil and water. Mix in bowl with a spoon, or mix with hands as dough comes together. Roll into 1- 1 1/2 inch round balls and flatten slightly. Bake 20 minutes. Once done, leave in oven to harden.