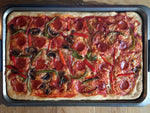 Sponge: 1 TSP yeast 3/4 cup unbleached flour 1/4 cup warm water Dough: 1 TSP yeast 1 cup warm water 3 TBSP EVOO 3 1/4 cups unbleached flour 2 TSP sea salt Topping: 1 Medium Onion- sliced 1 Bell Pepper-sliced 4 Button Mushrooms-sliced Pepperoni Slices 2 TBSP EVOO Sponge: Sprinkle yeast into warm water. Let stand 10 mins. Stir in flour. Cover tightly with plastic wrap, let stand 45 min. Dough: Sprinkle yeast into warm water.Let stand 10 mins. Stir mixture into Sponge mix. Mix in flour and salt until blended. Knead on lightly floured surface until soft and velvety....
---
Ingredients 4 tablespoons Arbequina or Picual EVOO1 Red Bell Pepper – cut into thin strips1 Green Bell Pepper - cut into thin strips 1 Yellow Bell pepper - cut into thin strips 5 large cloves or garlic minced1/2 teaspoon red pepper flakes1 teaspoon fresh thyme leavessalt pepper to taste 1 pound Spanish Chorizo sausage sliced into ¼ inch slices1 pound boneless skinless chicken thighs cut in stripsOne large tomato diced or one 14 oz can diced1 cup green olives drained, halved One medium onion choppedShrimp – 16 jumbo shrimp, shell onSmoked Paprika – 2 teaspoons1 teaspoon saffron 1 pound Valencia Rice Chicken broth...
---
Ingredients  1 1/2 cups whole wheat flour 1 cup finely grated zucchini 1 cup finely grated carrot 1/2 cup mild EVOO (I used Arbequina) 1/2 cup molasses   2 large eggs 1 1/2 cups brown sugar 1 tablespoon freshly grated ginger 1 teaspoon cinnamon 1/4 teaspoon cloves 1/4 teaspoon allspice 1/2 teaspoon salt 1/2 teaspoon baking soda 1 cup hot water  Glaze 1 cup powdered sugar 1 tablespoon honey ginger white balsamic  Directions Preheat the oven to 350 F. Grease a 9-inch-by-5-inch loaf pan with toasted almond oil. Combine flour, baking soda, cinnamon, salt, allspice, and cloves and baking soda in a...
Recent Articles
Categories