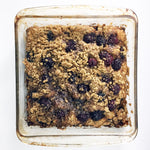 Quick and satisfying! Mix it up in minutes and get it in the oven in time for a warm dessert. If you love blueberries this is for you (and even if you only like them a lot)!
Cake
2 cups fresh or frozen blueberries
2 TBSP Wild Blueberry Dark Balsamic
1/4 cup mild EVOO
1 egg
2 cups all-purpose flour
2 TSP baking powder
1 TSP baking soda
1 cup milk
 
Streusel Topping
1/4 cup all-purpose flour
1/4 cup brown sugar>
1 TSP ground ginger
1/2 TSP ground nutmeg
2 TBSP Blood Orange Fused Olive Oil
Cake
Preheat the oven to 350.Grease an 8 x 8 baking pan
In a small bowl toss the blueberries with the balsamic and set aside
In a medium bowl beat the olive oil with the egg until frothy. Sift in flour, baking soda, and baking powder and gently fold to combine. Add milk and use wooden spoon to fold. Add half of the blueberries and balsamic and mix gently. Pour the batter into the pan. Distribute the remaining blueberries on top of the batter and drizzle with any liquid left in bowl.
Streusel
In a small bowl mix the streusel ingredients to form a crumbly mixture.
Sprinkle the batter with the streusel mixture and bake for 35 minutes or until toothpick inserted in middle comes out clean. Remove cake and use a knife around outside of pan to loosen. Serve warm.