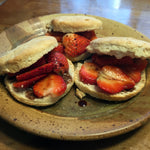 You'll love the ease of this simple dessert and its versatility for multiple variations depending on the berries and dark balsamic used.
2 1/2 Cups All Purpose Baking Mix ( Bisquick or Jif)
3 TBSP Sugar
1/2 Cup Whole Milk
3 TBSP Butter Olive Oil
1 QT Fresh or Frozen Strawberries, sliced
Topping:
3 TBSP Vanilla Dark Balsamic
Whipped Cream
Preheat oven to 425. Combine Baking Mix and Sugar in a Medium bowl and add Milk and Butter Olive Oil. Mix to form a soft dough. Turn dough onto a lightly floured surface and knead gently 8-10 times. Pat or roll dough 1/2" thick and cut with 3" diameter floured cutter. Place on baking sheet 1" apart and bake 10-12 minutes or until golden brown. Split short cakes and add strawberries and drizzle with Vanilla Dark Balsamic. Add Whipped Cream for a finishing touch. Makes about 6 3" cakes.
For variation try your favorite berries and Dark Balsamic!