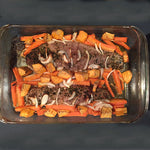 2 lb Pork Tenderloin
1/4 cup Harissa Olive Oil
1/4 cup Peach White Balsamic 
1 TBSP Dried Rosemary
1 TBSP Dried Basil
1 TBSP Garlic Powder   
1 TBSP Oregano
Add oil, balsamic, and spices to a 1 gal. Ziploc bag. Agitate and mix well.Add Pork tenderloin to bag and shake to coat.Marinate overnight in refrigerator. Remove from refrigerator 1 hour before cooking.Shake to coat with any remaining marinate.Preheat oven to 350 degrees. Pour any marinate over tenderloin.Cook for 45-60 minutes until internal temperature is 160 degrees.Let rest for ten minutes, slice, and serve.
For heat variation use Baklouti or Chipotle, for sweet variation use Pineapple or Apricot.