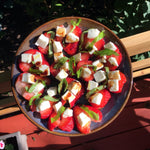 The Tomatoes are bursting from the vine, and the strawberries are as sweet as can be. Try this variation to delight the senses. Prepares quickly and use our August Pairing to save a few dollars!
2 TBSP Strawberry Dark Balsamic
2 TBSP Basil Infused Olive Oil
1 pint strawberries, hulled and sliced
1 Cup cubed mozzarella
10-15 large fresh basil leaves
Sea Salt
Ground Black Pepper
On a medium plate arrange the sliced strawberries evenly.
Slice basil leaves into strips and distribute evenly on strawberries.
Top each strawberry with 2 to 3 cubes of mozzarella.
Drizzle with the strawberry balsamic and basil olive oil.
Garnish with sea salt and black pepper to taste.