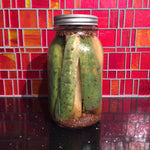 For 1 quart jar:
Use enough pickling cucumbers to pack jar.
You can cut cucumbers vertically into spears, slice into chips, or use whole. cucumbers and place in a large bowl. Fill with mostly ice and water to cover cucumbers and place in refrigerator for 8-24 hours. This makes them crispy and crunchy.
Ingredients:
2 cloves of garlic
1/2 tsp coriander seeds
1/4 tsp mustard seeds
1/4 tsp whole peppercorns
1/8 tsp red pepper flakes
1 c water
1 c white vinegar 
1 tbsp sea salt
2 sprigs of fresh dill or 1/2 tsp dried dill weed or 2 tbsp dill seeds
Place spices in jar, then pack in cucumbers.  Fill water/vinegar solution and cover cucumbers.  Screw on lid and place in fridge.  Pickles will be ready in about a week, but the longer the better. 
For a bit of a kick substitute 1 cup Jalapeno White Balsamic for white vinegar.
No coriander? Substitute cloves.
If you only have ground spices, use about half the amount.  Feel free to add slices of onion or other spices.  For sweeter pickles, add sugar.