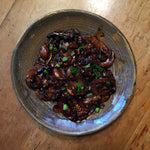 If you like mushrooms, you're going to love this!
1 lb Mushrooms*
3 TBSP mild EVOO
small white onion- diced
2 cloves garlic-finely chopped
1/2 TSP sea salt **
1/4 TSP ground black pepper
2 TBSP Traditional Balsamic Vinegar
1 TBSP scallion-finely chopped
Cut mushrooms into 1/4" thick slices. Preheat olive oil in a large skillet. Add onions and saute until they start to turn transparent. Add mushrooms and garlic and stir gently. Cook about 8-10 minutes until tender. Add sea salt, pepper, and balsamic vinegar to pan. Cook another 2 minutes. Serve and sprinkle chopped scallion on top.
*Use your favorite mushroom-we prefer baby Portabello.
**Try a flavored sea salt or balsamic to switch it up!