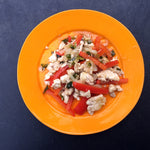 With just the right amount of sesame and ginger flavor you'll love this stir fry.
3 TBSP Honey Ginger White Balsamic
3 TBSP Sesame Oil
12 ounces boneless, skinless chicken breast
2 cloves Garlic
1/4 cup Scallions
1 Red Bell Pepper
1 Cup White Onion
1 Pablano Pepper
Cut chicken into bite size pieces. Mince the Garlic, Thinly Slice Onions and Red Pepper, dice Pablano Pepper and Scallions. Heat Wok or Skillet and add Sesame Oil. Distribute oil evenly. Add Chicken and sear for about 1 to 2  minutes undisturbed. Add Pablano Pepper and Garlic and cook for 2 to 3 minutes stirring constantly. Add remaining ingredients and stir constantly for 2 to 3 minutes until chicken is cooked and bell pepper and onions are crisp. Enough for a complete meal or stretch serving over rice or noodles.
For variations add fish sauce or oyster sauce. For less heat eliminate the Seranno Pepper.